Community
Jump to navigation
Jump to search
Media
SponsorBlock Flowchart by E.Coli. Flowchart to help users choose the correct category when making submissions.
Please see the latest version on the GitHub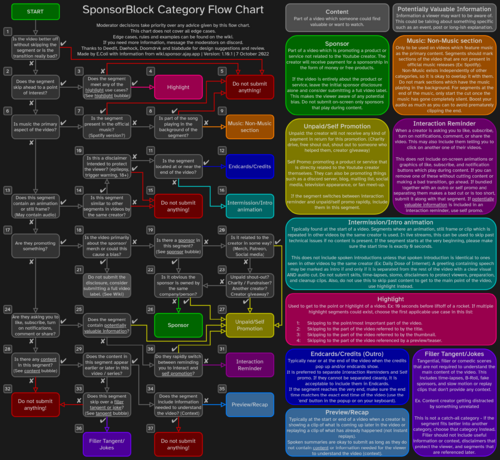 Websites
SponsorBlock Browser by Lartza. Explore segments on a 5-minute delayed version of the live database
SponsorBlockControl-sveltekit by Nanobyte. Vote on segments with UUID, also for VIP operations
SponsorBlock Swagger by mchangrh. Explore and try the SponsorBlock API.
Userscripts
Userscripts require a userscript manager like Tampermonkey.
SponsorBlock Browser
Userscripts by Nanobyte
Userscripts by TheJzoli
Userscripts by Deedit
Opens the video's page on SBB. (Install)
Opens a video outside of its playlist. (Install)
Userscripts by blabdude
Userscripts by xtyl
Replaces or redirect all sb.ltn.fi links to be pre-loaded with filters (Install)
Userscripts by Cane
SBC/ SBB/ Playlist opener buttons in one script (Install)
Userscripts by AcesFullOfKings
Subtler category colours for sb.ltn.fi (Install)
SBBCoolHelper by Maxhyt
VIP tools for SBB

Voting
Category Change
Locking
Userscripts by NoMoreAngel
Adds time saved column for each segment (Install)
YouTube (SponsorBlock)
User(Styles) by jiraph
Styles thumbnail label to match YouTube's existing thumbnail badges.
Styles dropdown list in the submission menu with each category's respective color.
Bookmarklets
Opening SponsorBlock Browser page while on the YouTube page
javascript

:

(

function

(){

window

.

open

(

'https://sb.ltn.fi/video/'

 

+

 

new

 

URL

(

document

.

URL

).

searchParams

.

get

(

"v"

)

 

+

 

'/'

)})()



Opening SponsorBlockControl browse page while on the YouTube Page
javascript

:

(

function

(){

window

.

open

(

'https://mruy.github.io/sponsorBlockControl-sveltekit/browse/?videoID='

 

+

 

new

 

URL

(

document

.

URL

).

searchParams

.

get

(

"v"

))})()



Open video outside of playlist
javascript

:

(

function

(){

window

.

open

(

'https://youtube.com/watch?v='

 

+

 

new

 

URL

(

document

.

URL

).

searchParams

.

get

(

"v"

))})()



3rd Party Ports
SponsorBlock Port Matrix by mchangrh. Supported endpoints, segment types and documentation versions for different ports/libraries
Misc
sb-slash by mchangrh. Interact with SponsorBlock over Discord